The roof is one of your property's most important structural components and can typically last for years. However, no matter the type of roofing material you use, it wears and tears over the years, causing unwanted problems and expensive repairs.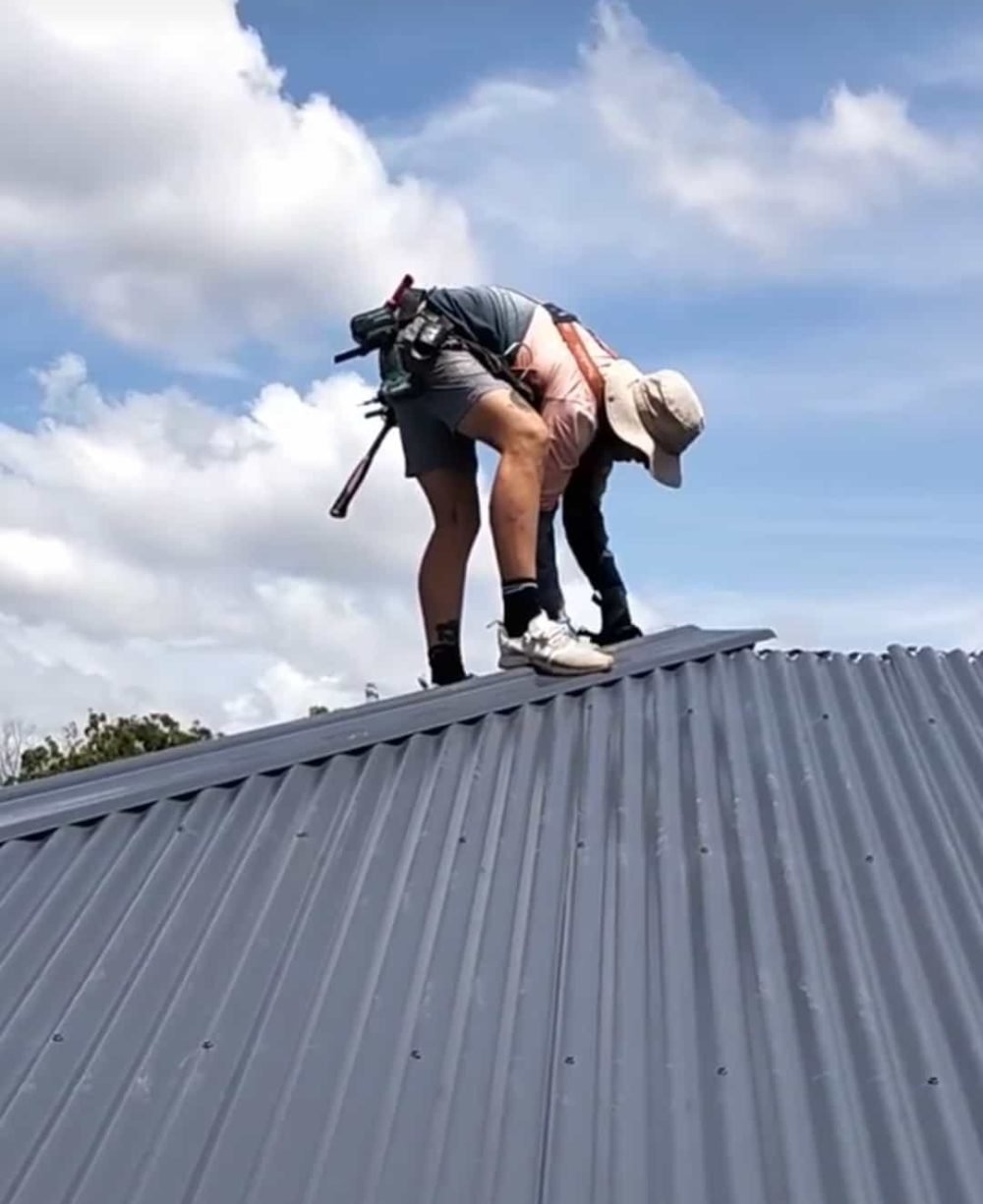 Professional and Result-oriented
Custom-tailored Roof Replacement Solutions
One of the best ways to get rid of these frequent roofing problems is to go for roof replacement instead of paying incrementally for roof repairs. At Gold Coast Roofing, we provide professional and result-oriented roof replacement solutions to commercial and residential clients. We specialize in providing Colorbond-based roof replacement solutions, one of the most competent roofing materials available in the roofing industry today.
Colorbond roofs are made of Zincalume material and come in 22 colours. It gives you a variety of options to choose from, ensuring the aesthetics of your property are greatly enhanced, backed by uncompromising strength and durability. We are pioneers in Colorboond roofing in Gold Coast, QLD, and have successfully helped numerous properties with roof replacement over the years.
At Gold Coast Roofing, we have been in the roofing industry for decades and have seen how different roofing materials age over the years. We know the upsides and downsides of various roofing materials. This has allowed us to find a way-between that's a hybrid of strength, durability, and longevity in the form of Colorbond metal roofing.
Colorbond metal roofs come in a variety of colour options and have the high tensile strength to withstand Australia's volatile weather conditions. With Colorbond roofs over your head, you don't have to worry about the deterioration of your roof by violent storms, salty ocean winds, or torrential rains.
It is a practical roofing material that's chosen by most commercial and residential properties in Gold Coast, QLD, because it is embedded with tons of practical characteristics that are perfect for Australian homes and commercial facilities. It is also thermally efficient and easy to insulate, offering you considerable savings in the long term.
Our Most Requested Services
Gold Coast Roofing -
Roof Replacement Solutions
At Gold Coast Roofing, we offer an exhaustive range of roof replacement services to commercial and residential clients across Gold Coast, QLD.
Thanks to years of experience in the roof replacement space, we are well-networked with Colorbond suppliers, always ensuring you warranty-backed products and high-quality workmanship.
Trust us with your roof replacement needs, and you won't regret it!
Tile to Metal Roof Replacement
If you wish to maintain the original look and feel of your tiled roof, our team can match the colour and profile of your existing roof with Colorbond steel. A tiled roof may look great, but it fails miserably when you compare its strength to Colorbond roofs.
The best part is you don't have to compromise on the aesthetics when you choose Colorbond Zincalume roof material over your tile roof. Our team would help replace the existing terracotta or cement tiled roof and replace it with Colorbond roofing. With us, you can expect a comprehensive roof replacement solution.
Starting from inspection to roof installation and from helping with selection and anything in between, our roofing experts at Gold Coast Roofing will be by your side throughout the roof replacement process.
Many aspects of damaged and worn-out metal roofs can be mitigated with repairs. But there will come a time when replacing the old metal roof is the only way to address the problems once and for all.
Whether it is because your metal roof is past its expiry date or for aesthetic purposes, a metal roof replacement is a fantastic solution to enhance the protection of your property.
Choosing our Colorbond roof replacement solution has increasingly become a common choice for commercial and residential properties in Gold Coast, QLD, and rightly so. It provides a combination of characteristics that makes it a worthy choice over other roofing materials on the market.
We provide end-to-end metal roof replacement services in a professional, efficient, and timely manner without breaking the bank. We aim to please and go the extra mile to provide customer satisfaction that's unmatched in the roofing industry of the region.
Gold Coast Roofing can transform your house with a full roof replacement with a Colorbond steel roof. Give us a call today for more information.
Before being banned in the '80s, asbestos was used extensively in building products in Australia. Asbestos is made of naturally occurring soft and heat-resistant fibres. These fibres are extremely dangerous, and when inhaled, they can penetrate into the lungs, causing significant health problems, including respiratory diseases and even cancer.
Due to the hazardous nature of asbestos roofing, its removal should be best left to the experts. At Gold Coast Roofing, we have the training, experience, and specialist equipment needed to make asbestos removal easy and safe.
Once removed, we can replace your asbestos roofing with something much better and safer, a Colorbond metal roof!
Commercial Roof Replacement
As a business owner, you know how important a functioning roof is for your property. A worn-out and damaged commercial roof can cause extensive damage down the line that threatens the property's foundation. If you have been dealing with the same issues with your roof over a few months, or it is getting up there in age, you are better off replacing it altogether.
Our roofing team has years of experience and is familiar with working and building around air flow systems, smoke stacks, and external piping. We have the specialized tools and equipment needed for safe and high-quality commercial roof replacement.
Allow our experts to inspect your roof to prevent a leak or a failure from causing an unplanned disruption to your business!
Insurance & Hail Damage Roof Replacement
The volatile weather at Gold Coast, QLD, is no secret, meaning you need to have a strong roof protecting your commercial or residential property. Many properties with weak roofs often suffer from unexpected and unwanted hail and storm damage, needing expensive repairs.
Moreover, roof damage can lead to other structural issues due to water making its way to other parts of the property, impacting the overall structural integrity of the property. If your roof has suffered from substantial damage due to hail, thunderstorms, extreme winds, or a storm, you can file an insurance claim for roof replacement.
At Gold Coast Roofing, we provide bespoke roof replacement solutions, including insurance claim assistance. We would provide professional roof replacement services along with helping you file for and get the fair compensation you deserve.
This offloads your worries about getting your property back in order while taking care of your financial woes, ensuring insurance claim offers substantial coverage.
Our Roof Replacement Process
At Gold Coast Roofing, we have been replacing roofs for commercial, residential, and industrial properties in Gold Coast, QLD, for decades. With our roof replacement specialists on site, you don't have to worry about your roof again.
Our roof replacement process is refined and standardized through years of experience and has evolved to filter out any challenges that may hamper the output quality.
That said, the roof replacement process is pretty complex and nerve-wracking, and you need experienced, qualified, and licensed roofing contractors to handle the job. Cutting corners during roof replacement and roof installation would negatively impact the protection and longevity it offers, killing the purpose of choosing a high-quality Colorbond roofing material.
At Gold Coast Roofing, we know roof replacement like the back of our hand and have multiple quality checkpoints to ensure the work done is by the rule book, leaving absolutely no room for errors.
Let us look closely at the roof replacement process –
At Gold Coast Roofing, we aim to get it right the first time itself.
Roof installation is an expensive affair that you can't leave in the hands of an amateur or inexperienced roofing firm. At Gold Coast Roofing, we bring with us years of experience, unmatched resources in the field of roofing, and an upgraded inventory of the latest roofing tools and equipment.
This helps us provide the best roof replacement services in Gold Coast, QLD, ensuring peace of mind for our clients for years to come.
If you're still wondering why you should choose Gold Coast Roofing, here are a few reasons –
At Gold Coast Roofing, we take pride in being the best roof replacement services provider in Gold Coast, QLD, and neighbouring areas.
Our team has successfully completed hundreds of roof replacement projects for residential and commercial properties and can take on any project with confidence, no matter how challenging. Trust us, and you'll be glad you did!
FAQs - Roof Replacement in Gold Coast